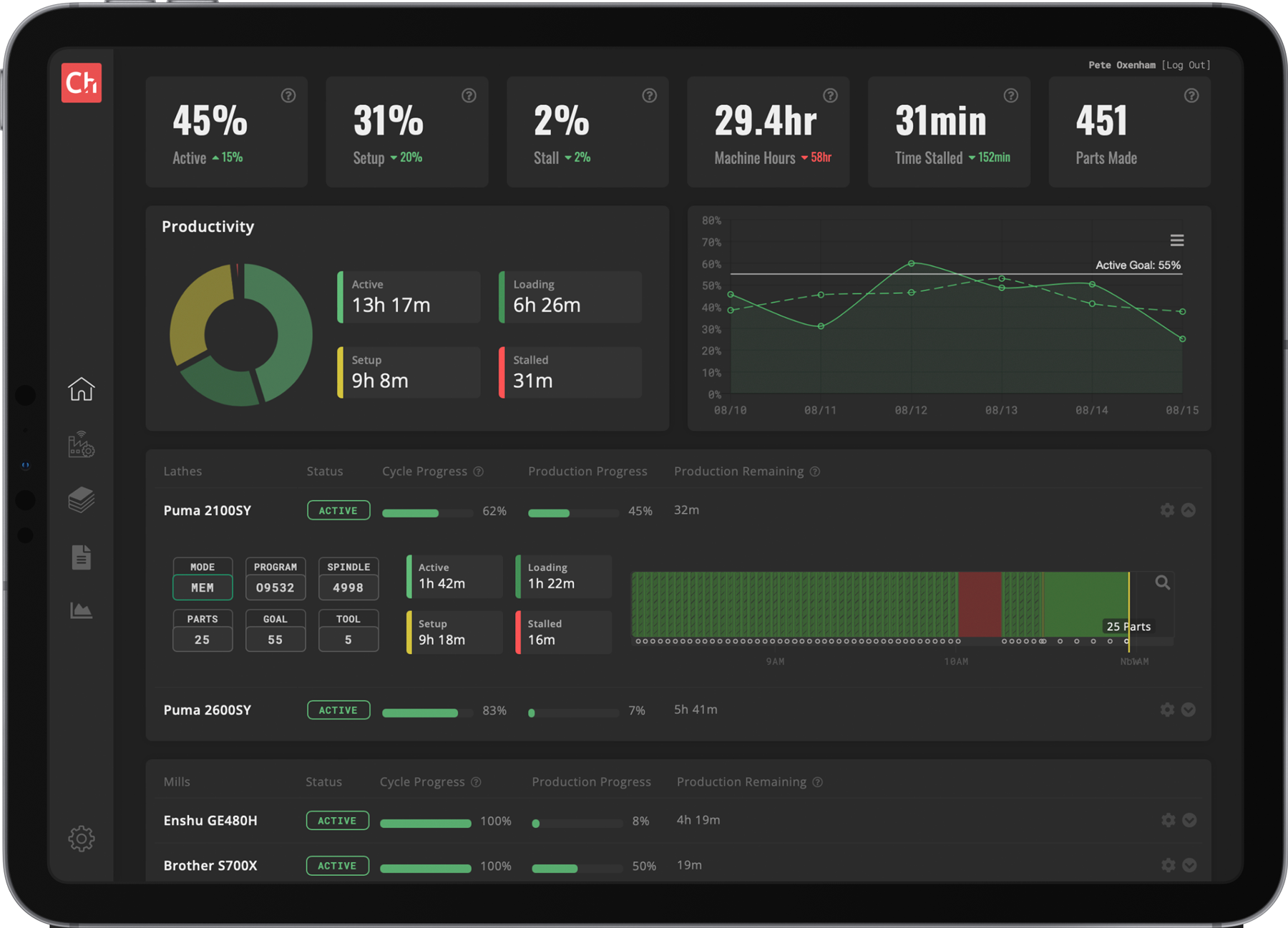 Machine Monitoring, Without all the Fuss
Chatter is a cloud-based platform that helps machine shops visualize their data in realtime, without the headache of complicated integration.
15-Minute Integration
Most customers are able to integrate their machines into Chatter in less than 15 minutes. Our goal is for our users to hit the ground running from day one.
No Setup Fees
Chatter was built to easily pay for itself through productivity gains, so we don't require a massive up-front fee to get you locked in.
Beautiful UI
Let's be honest - most industrial software is super hard to use and ugly to look at. We worked very hard to make using Chatter a breeze.
How is Chatter Different?
We built Chatter because the current IIoT monitoring platforms are focused on large facilities, and we wanted to make data insights accessible to small and mid-size companies. Here are our "key bulletpoints":
Easy Integration - Each machine takes less than 15 minutes to set up.
Useful Data - Our algorithm can detect if a machine is running, set up, stalled, or off-shift. All with zero human input. On top of that, we allow you to configure the KPI's you want to see on your dashboard, as well as set event-based notifications (production run complete, low coolant, alarms, etc)
Clear Pricing - "Email us for a Quote" is the most frustrating thing ever. We post the prices for our nodes and cloud services online.
Good-Looking UI - Seriously, who wants to stare at some thing designed in 1992 all day?
Features
Haas Pre-NGC
Haas NGC
Fanuc

†

Brother
WiFi Connectivity
Cycle Time Reporting
History Timeline
Tool Life Management
SMS Notifications
Setup & Stall Detection
In-Process Inspection
Coming Soon!
† Requires FOCAS Functionality (Standard on Networked Machines)
---
Mazak and Hurco support are currently being tested and planned for release in Q2 of 2022.
What is the Setup Process?
Pretty simple:
1) Register on the website. Once it's your turn on the waitlist, you'll recieve a link for onboarding.
2) Configure your machines and wifi, we'll send you the proper hardware once we have the correct information on your shop.
3) Plug it in! You should see your machine information display in the cloud immediately.
Pricing
Our service is priced at $80/mo per machine, or $600/yr per machine. The physical connect node is provided to you with the price of the subscription, so there are no hardware or setup fees.